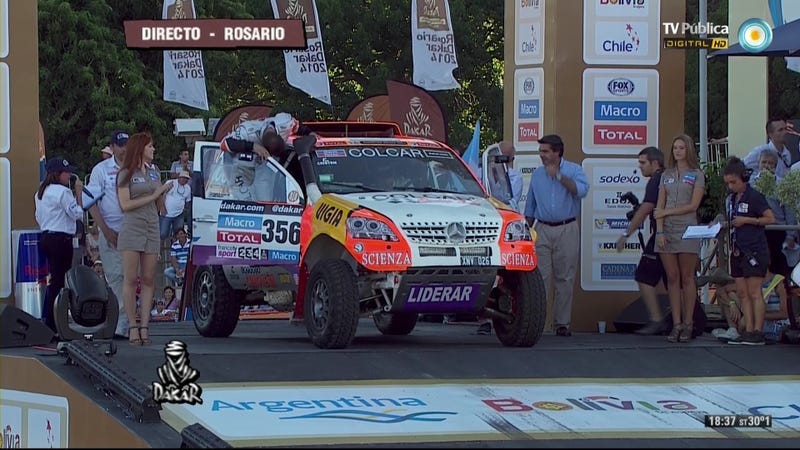 Yesterday, in front of over a hundred thousand fans, 500 cars passed through the center of Rosario, Argentina. In a parade that quite literally lasted hours, every competing vehicle drove up the dais at the ceremonial start (aside from the trucks, they're too heavy and had to stop alongside) and every driver and co-driver was introduced. From a host of privateer buggies and indestructible Toyotas, to the car of paraplegic rally driver Albert Llovera with it's unique hand controls, to the armada of Minis, to Robby Gordon and his traditional jump of the podium. Yesterday was pomp, circumstance, and a party bigger than anything you could imagine. Today is combat.
Day 1: Rosario to San Luis
Today starts with a long six hour, 250 mile drive to the start of the opening stage. Bikes and quads lead the pack, with the first bike leaving for the start at 4:20 AM local time (2:20 AM U.S. Eastern). Anyone who stayed up too late last night partying is now regretting it. Once at the start competitors were met with 112 miles of fast roads, blind jumps, and a handful of water crossings, all on a road surface that is a combination of soil and stones. The second shortest stage of the rally, today is almost a sprint in Dakar terms, which isn't at all to say it will be easy. Many of the road sections are technical, with blind corners and gotchas, and some have been used in previous years by the WRC. Those who didn't fully wake up before starting will find themselves in trouble here. The stage ends with a climb of more than 3,500 feet in the final 25 miles before finally reaching the end of the stage. From that finish competitors will need to drive another 140 miles to reach the overnight stop in San Luis. It's only going to get harder from here.
Stage start times:
•Bikes/Quads: 10:20 AM local (8:20 AM Eastern)
•Cars: 12:52 PM local (10:52 AM Eastern)
•Trucks: 3:45 PM local (1:45 PM Eastern)
For live tracking of competitors on stage 1 you can use the official Dakar tracker HERE